Description
First-class coffee quality
The Professional Aroma Grinder guarantees 12.2%* more aroma and consistently high grind quality so that flavours unfold to perfection throughout the entire service life of the grinder. The Pulse Extraction Process (P.E.P.®) ensures maximum flavour for short specialities, while intelligent preheating guarantees the ideal temperature right from the first cup.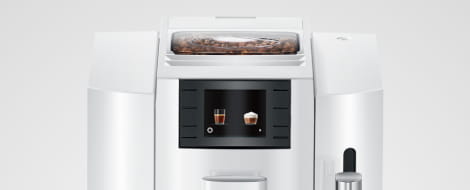 Luxurious operation
A 2.8″ colour display, six buttons and a completely new operating concept featuring artificial intelligence enable simple handling. An intelligent algorithm identifies individual preferences and adapts the start screen so the user's two or four favourite specialties are always displayed. Product settings and their positions on the screen can be adapted in line with personal preferences and product names can be displayed or hidden. All relevant information regarding the coffee machine as well as pending care instructions are presented clearly in the Cockpit via the display.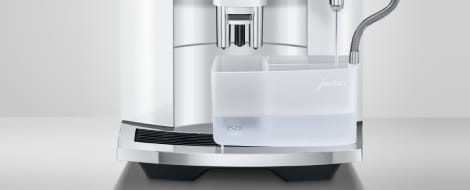 One-touch milk system cleaning
The sophisticated milk system cleaning process takes place automatically at the touch of a button and is completed in no time. The drip tray also meets the highest ergonomic standards. Its design prevents water from spilling and it can be removed conveniently with just one hand.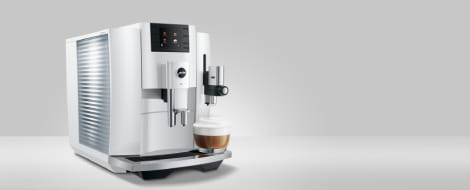 Harmonious design
JURA coffee machines feature a clean and expressive characteristic design. High-quality materials and precise craftsmanship underline the premium quality of the modern E8. Its styling alone is evidence of its quality, functionality and durability. Details such as the grooved water tank or the high-quality, chrome-plated cup grille perfectly complement the clean, harmonious design of the E8.
Retail Name
E8 Piano White
Manufacturer
Jura
Model Number
15422
SKU
7610917154227
Product Hight (cm)
35.1
Product Width (cm)
28
Product Depth (cm)
44.6
Product Weight kg
9.6
Made In
Body Colour
White
Body Material
Painted Plastic
Adjustable Cup Hight
Yes
Cup Height Clearance
15.3 Milk / 11.1 Coffee
Bean Hopper Size Grams
280
Water Tank Capacity litres
1.9
Water Tank location
Top Left
Used coffee Container Capacity
16
Used coffee Container Location
Front Middle
Grinder Settings
Grinder Built-In
Yes
Ground coffee Dosage settings
Bluetooth/Wifi
Wifi
Pre Infusion
Yes
Temperature Settings
Yes
Milk froth preparation
Automatic – one touch
Boilers
1
Pump Pressure
15
User Interface
2.8" colour display
Pump Type
Vibration
Simultaneous coffee and milk Preparation
No
Ground coffee Bypass
Yes
Brew Group Removable
No
Energy Saving
Yes
Cup Warmer
no
Warranty Years
2 Year Warranty
Recommended Water Filter
Claris Smart Filter
Recommended Descaler Type
User Profiles
Drink Selections
Espresso
2 x Espresso
Coffee
2 x Coffee
Cappuccino
Cappuccino Extra Shot
Caffè Barista
Lungo Barista
Espresso doppio
Macchiato
Cortado
Latte macchiato
Latte macchiato Extra Shot
Flat white
Flat White Extra Shot
Portion of milk foam
Hot water
1 X Jura Care kit which includes: Pack of 2 Cleaning tablets,
1 Claris Smart Filter, User Manuals, 1 Pre-ground Coffee Scoop, 1 Hose with Connector, 1 100ml Cappuccino Cleaner, 1 Easy Cappuccino Cleaning Container, 1 Water Spout Attachment, 1 Filter Extension and 1 Water Hardness Testing Strip.