Description
Anthony's Espresso is Canada's largest Authorized warranty centre. Trust your purchase with the experts.
The 3200 series from Philips is the perfect bean to cup option if you are looking for a fully automatic unit with an Americano option. Enjoy 4 coffee options, Espresso, Coffee, Espresso Lungo or Americano with the option of Cappuccinos or Lattes made manually with the steam wand!  Coffee options are all customizable in strength and length via My Coffee Choice. The 3200 Classic Milk Frother specifically differs from its sister 3200 Lattego because of its steam wand frothing system. You control your froth with steam! Philips durable ceramic grinder burrs can be adjusted in 12 steps, ensuring you get the right grind that you are after.
Maintenance to this machine is super simple with the Aquaclean filter because descaling isn't required as often. You only have to descale once you've gone through 8 filters*! How convenient! The removable brew group can be rinsed / washed as needed under the tap and re-inserted.  Espresso Service Tip: We recommend rinsing your brew group at least once a week, with regular usage.
Anthony's Espresso is an authorized warranty centre for Philips/Saeco Espresso Machines.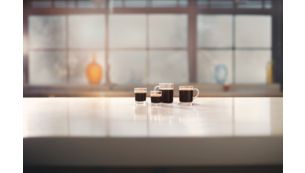 Enjoy 4 coffees at your fingertips
Enjoy your favourite coffees for your special moments. Whether you crave for an espresso, a cofffee or a milk based recipe, your fully-automatic machine delivers a perfect in-cup result with no hassle and in no time!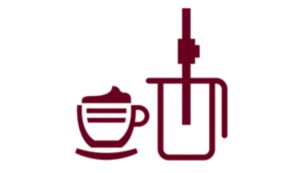 Delicious milk froth thanks to the classic milk frother
The Classic Milk Frother dispenses steam, allowing you to easily prepare silky smooth milk froth for your cappuccino. What's more? With only two parts, the Classic Milk Frother is also easy to clean.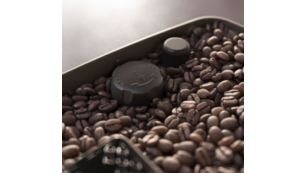 Easily adjust to your taste with 12-step grinder levels
Our durable ceramic grinders can be adjusted in 12 steps, so you can turn your beans into anything from ultra-fine powder to coarse grindings.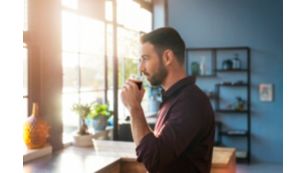 The perfect temperature, aroma and crema cup after cup*
The Aroma Extract system intelligently strikes the optimum balance between brewing temperature and aroma extraction by keeping the water temperature between 90 and 98°C, while regulating the water flow rate, so you can enjoy delicious coffees.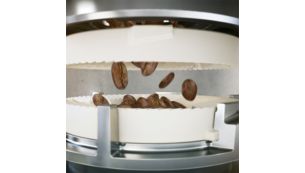 20,000 cups of finest coffee with durable ceramic grinders
Our grinders are 100% pure ceramic: extremely hard and precise, so you can enjoy fresh aromatic coffee, for at least 20.000 cups.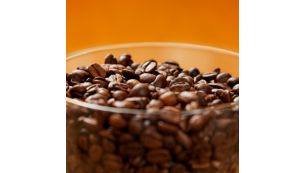 Keep your beans fresh for longer thanks to the aroma seal
The new Aroma seal protects your favorite coffee beans and makes sure they preserve their original aroma over time, while reducing the grinder noise.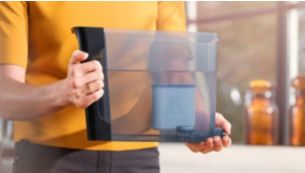 Up to 5000 cups* without descaling thanks to AquaClean
By changing the filter after being prompted by the machine, you will not need to descale your machine for up to 5000 cups*, while enjoying clear and purified water.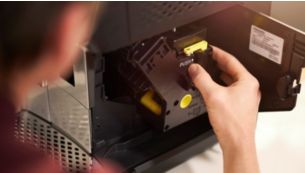 Easy cleaning thanks to fully removable brew group
The brew group is the heart of every fully automatic coffee machine, and should be cleaned regularly. The removable brew group allows you to clean it thoroughly just by rinsing it under the tap.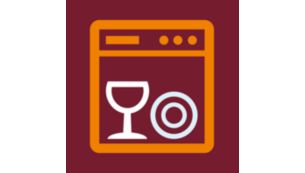 Dishwasher safe parts for your convenience
For your convenience, you can put the milk system, drip tray and the coffee ground container in the dishwasher. This will save time and ensure a hygienic cleaning.
Easy selection of your coffee with intuitive touch display
The irresistible taste and aroma of coffee from fresh beans is just one touch away. Our intuitive touch display allows you to easily select your favorite coffee.
Adjust aroma strength and quantity via My Coffee Choice
Adjust the strength and quantity of your beverage with the My Coffee Choice menu. Easily choose from three different settings to suit your preferences.
Retail Name
3200 Classic Milk
Manufacturer
Philips
Model Number
EP3221/44
SKU
075020086204
Product Hight (cm)
37.1
Product Width (cm)
24.5
Product Depth (cm)
43.3
Product Weight kg
7.5
Made In
Romania
Body Colour
Black/Glossy black
Body Material
ABS Plastic
Adjustable Cup Hight
8.5-14.5
Cup Height Clearance
15
Bean Hopper Size Grams
275
Water Tank Capacity litres
1.8
Water Tank location
Front Right
Used coffee Container Capacity
12
Used coffee Container Location
front
Grinder Settings
12
Grinder Built-In
yes
Ground coffee Dosage settings
3
Bluetooth/Wifi
No
Pre Infusion
Yes
Temperature Settings
3
Milk froth preparation
Classic
Boilers
1
Pump Pressure
1
User Interface
Touch screen display
Pump Type
Vibration
Simultaneous coffee and milk Preparation
no
Ground coffee Bypass
Yes
Brew Group Removable
Yes
Energy Saving
Yes
Cup Warmer
No
Warranty Years
2
Recommended Water Filter
Aqua Clean
Recommended Descaler Type
Philips, Anthony's Espres
User Profiles
No
Drink Selections
Espresso
Coffee
Espresso lungo
Americano
Hot Water
Included in Box
 Grease tube,Measuring scoop,Water hardness test strip,AquaClean filter